We look forward to seeing you this year at our annual Fall Festival. It will be on October 31 this year from 6-8PM. Last year we had well over 2000 people arrive on our campus. We'd love for you to be a part of that number this year. We have food and games for every age group. Most of the parking will be to the right of our buildings. Please see the map below.
If you don't have a church home, we would love for you to come and visit us. You will be blessed just like we are blessed by God each day!
TO PRE-REGISTER, PLEASE USE THE LINK BELOW. YOU WILL NEED A COPY OF THE TICKET WITH THE QR CODE WHEN YOU ENTER. WE WILL SCAN THAT TICKET WHEN YOU ENTER. AN EXAMPLE COPY OF THE TICKET IS BLEOW THE LINK.
CLICK HERE FOR TICKETS
or
TEXT ff20 to 66866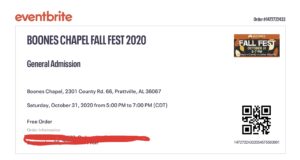 IF YOU ARE A MEMBER OR FAITHFUL ATTENDER OF BOONES CHAPEL AND YOU WOULD LIKE TO VOLUNTEER TO HELP, PLEASE CONTACT ALLISON SHOEMAKE-
VOLUNTEER HERE FOR FALL FEST
OR
TEXT FallFest20 to 84576