"Watch, stand fast in the faith, be brave, be strong.
Let all that you do be done with love."
BE FAITHFUL, BE BRAVE, BE STRONG!
Welcome to the Boones Chapel Men's Ministry page. If you are not involved with a men's group and are looking for a group of guys who will care about you with the love of Christ, then w

e hope that you will be motivated to get involved in one or more of our men's ministries.
Here is an overview of what we have going on:
______________________________________________________________________________
"God did not create men to be nice boys. He created us to live a life of passion, freedom and adventure. To be dangerous men living in a really big story." John Eldridge

Attention BoonesMen!
Men's Small Groups are meeting at various locations and on various days. To find a meeting that works for you, see the schedule below and contact a leader. We are currently using John Eldridge's "A Year With Men" curriculum and starting Session 3, "Becoming a King." Sign up today!
Contact Jay or a small group leader to find out more about getting involved.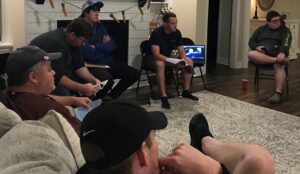 Small group is a place where men start real conversations and authentic friendships are built, and spiritual maturity is cultivated. We have several small groups that meet at various times during the week both on campus and at individual homes. The current curriculum that we use in men's group is the Bible with John Eldredge's "A Year With Men" plan as a guide to lead men in discussions about integrity, apathy, family, leadership and God's calling in our lives.