Hello Everybody,
We are fast approaching Easter. The yard signs advertising our Easter Services are all over our community. There is a lot of excitement about our church. We would like your help with a couple of things.
First, if you can help this Saturday, we are having a church-wide clean-up day. Inside and outside of the church, we will work together to make the Lord's house beautiful. Anyone is welcomed to attend and we could use everyone's help. The last one we had everyone pitched in and we were done in a couple of hours.
Second, if you are available the 40 Hours of Prayer is next week and we are asking God to something special through this event. We are going to be doing this in the Worship Center and there will be a prayer guide and instructions. Please consider giving a little bit of you time as we prepare our hearts and church for Easter. You can use this link to sign up-
HERE
.
Don't forget to join us on Good Friday at 6:30 PM as we share communion together and prepare our hearts for Easter. Anyone is welcome to attend. Use this opportunity to invite someone to Boones Chapel!
Now let me remind you that Bro. Phil and Susanne are on their way to Brazil. They will be sharing the Gospel and partnering with our friend- Bro. Giu. Please pray that you will give them both traveling mercies and the boldness to preach the word. Pray that many hearts are turned towards Jesus. We are blessed to have many in our church who are called to preach. They will lead us the next couple of Services. Would you commit to pray for Phil and Susanne every day as they represent us? Below is a map of where they will be in Belo Horizonte, Brazil.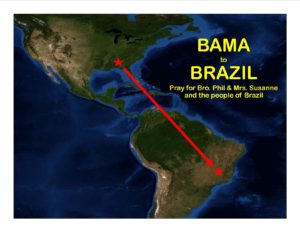 Blessings!
Bro. Tommy